TRAX Equestrian Center is a non-profit Equine Facilitated Learning Center for children and adults with neurological and physical disabilities.
Our facility offers a unique horse backing program that coordinates physical and emotional therapy into a one of a kind experience. The goals of the program are to achieve increased balance and control, improve language and socialization skills while enhancing self esteem. We design each of our rider's lesson plan based on their individual needs. TRAX is overseen by a licensed speech pathologist, and occupational and behavioral therapists who evaluate our rider's.
Participants are encouraged to interact with horses by learning to care for them. During each session activities are used that focus on developing motor skills, dynamic movement and facilitating speech and language. TRAX encourages the riders to master new skills, teaches them how to care for the horse, and allows them to socially interact with other riders. Our belief is that no child or adult should be left behind regardless of the degree of their disability. This means we take the time to work through the fears and behaviors that are often encountered. This is what sets TRAX apart from other similar facilities.
The program offers weekly half hour and up to 1 hour sessions under the supervision of a riding instructor and three volunteers who lead the horse and help support the rider. They are all trained individuals who understand the importance of safety and the development of each rider.
TRAX is now teaming together with the Riverside County of Mental Health in their PET and Assist in Recovery program. This is a pilot program developed to assist individuals overcome barriers in their life by learning to care about, interact with, and support in a neutral safe environment. With the goal of being able to generalize these skills back into their personal relationships.
TRAX Equestrian Center has evolved into a non-profit organization with a mission to enhance the lives of children and young adults with neurological, physical, developmental, and emotional disabilities by providing therapeutic horseback riding activities that are recreational in nature and adapted to individual needs.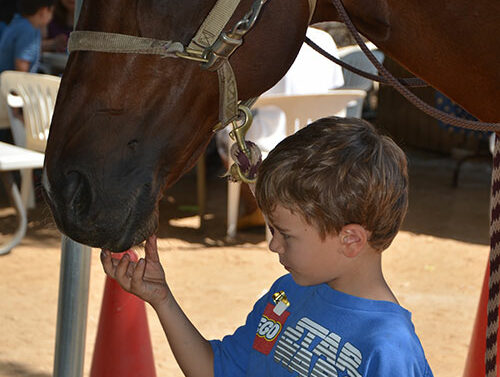 SenseAbilities Therapy Group
Trax is also part of SenseAbilities Therapy Group which offers speech therapy, occupational therapy, and behavioral therapy, located in Riverside.
The TRAX Equestrian Center was started when a Speech Therapist partnered with an Equestrian in an effort to help Autistic children improve their speaking skills, and resolve their sensory dysfunction through animal assisted therapy. The success of this pilot program in helping the autistic children lead to utilizing the therapy approach to help others with physical and mental impairments.
2121 Saint Lawrence St
Riverside, CA 92504